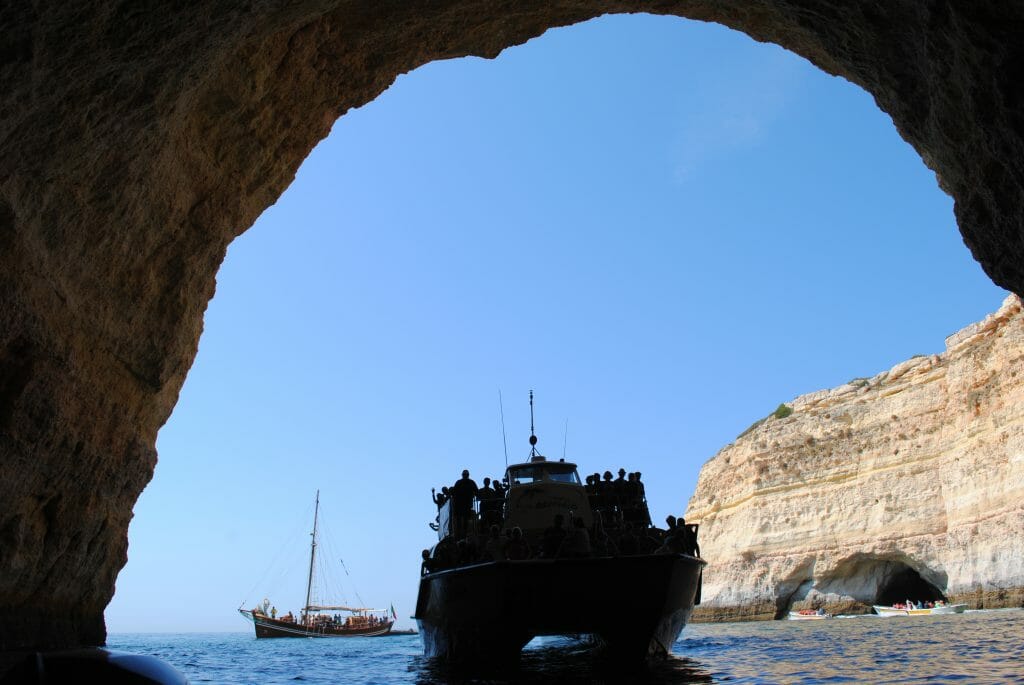 Benagil Caves & Lunch aboard
* Boat Location: Vilamoura Marina
* Departure Time: 10h00
* Arrive Time: 14h30
* Boat: Catamaran 59ft , Motor Yacht 58ft
* Price ( Adult ): 49 €
* Children ( 4 – 12 ): 24.5 €
* Baby: Free
* Transport: Available under request
Half day Benagil caves boat trip leaving from vilamoura, taking you to visit some of biggest sea caves in Europe along Benagil coast .
Transport available under request to the boat tour and back .
There will be a break to swim and BBQ buffet include on the way back.
This boat trips is the most popular for families because it will take you just for half day to visit Benagil caves the most beautiful place in the Algarve coastline and include a BBQ lunch on the way back. The boat departure from Vilamoura marina and first we sail out on the Dolphins route until we reach Benagil caves , then we perform the tour along the coast to see the sea caves.
There is time for a break to swim and on the way back you can taste a delicious BBQ, including several types of grill pork and chicken meat and sausage with crisps , salad, bread and fruit. Drinks are include too , white wine, orange soda and mineral water. The return will be along the coast to see in detail cliffs, rock formation, the several village, albufeira old town, Albufeira new town, up to Olhos de agua and Vilamoura.
During the trip there is plenty of nice music and some information about the coastline, do not forget to bring the camera to captures all the moments!
On the Benagil sea cave the Captain will take the boat closer to the caves according to the sea conditions.
Along the Benagil coast you can find some of Europe's largest sea caves with beautiful colors and shapes.
Arrive Vilamoura Marina about 14h30